China International Knitting Fair(below call:PHvalue fair),which organized by China National Textile and Apparel Council, jointly organized by China Textile Industry Branch of China Council for the Promotion of International Trade and China Knitting Industry Association. The platform show products of knitting apparel, technology of textile ,news products of research and development and fashion of knitting fabric. During the decade, PHValue fair experience textile industry broken out and innovation, after faced the barrier and insist. After development of many years, PHValue fair became the trending of textile in China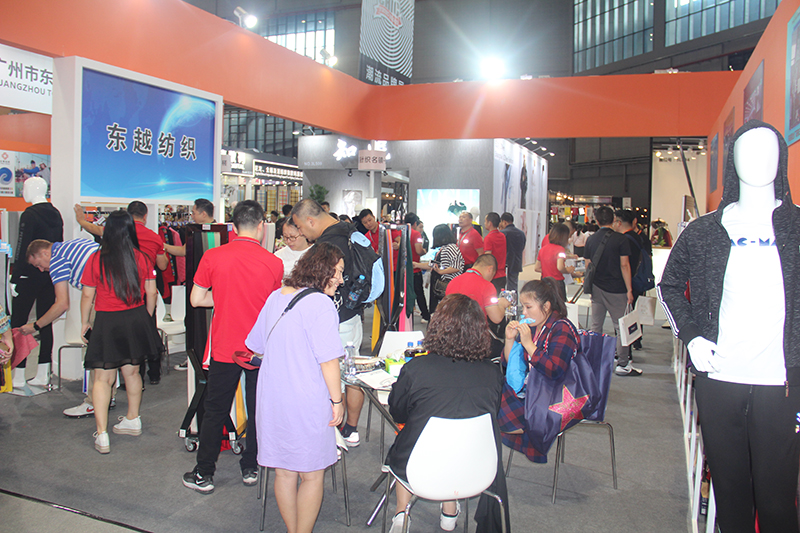 Dongyue textile was invited this knitting fair, the leader of textile industry, which bring the hot fabric of fall and winter in 2018 and the news products of spring and summer in 2019. All kind of people came to the boot visited the fabric ,including the industry elite, media friends and Clothing enterprise. They visited the fabric sincerely and all feel satisfaction. "high quality fabric made in dongyue" not only is a slogan, but also the customer are strict with style and quality of fabric. Especially, our children's wear arrived the country level and focus on environment, soft-touch .
This textile show was our company first to decide to entire it. Its obvious that a lot of foreign customer show their cooperation idea to us. And looking forward to make business relationship to us.
After the fair ending, the samples was delivery in good order and well arranged. Thought this fair, our company had great progress, dongyue textile mogory in the high quality fabric. Insisting sent the middle and high fabric. More than 300 company become its strategic partner. Company had set five sale centre and more than 20 agency in the domestic and overseas.
The headquarters of DONGYUE was settled in zhangcha FOSHANG ,GUANGDONG province, having weaving factory, dye-works , composite factory, the former have 258 machine of weaving fabric and product about 10 thousand ton .The dye-works have 9 machines to finalize the style .There are 3 list of the latter that yield 10 thousand ton every year.
Company primary business are sale all the cotton fabric of single-side cloth, double-side cloth, rib cloth , hoodies , ect. And all kind of the composite cloth such as printed ,ultrasonic cloth, coating, Anti-pilling cloth. All the Cloth cover pure cotton ,rayon, polyester, CVC, T/C, T/C and other functional fabric.